Dutch Tree of the Year: The Mother Tree
The imposing Moeier tree on the Markt in Etten-Leur is very striking. A green monument. In the race for European Tree of the Year in February 2021! Read more
The Moeierboom (the Mother Tree) on the Marketsquare in Etten-Leur has been voted The Tree of the Year for Brabant AND the Netherlands!
In the European Tree of the Year election, the Moeierboom finished in sixth place and we are very proud of that. Read the news item here .
One of the most famous spots in Etten-Leur is the Moeierboom on the Markt. The Mother Tree is a large-leaved lime (Tilia platyphyllos). The tree does not have the normal shape of a lime tree, which should have been 20 meters high considering its age. The tree has probably lost its top due to a lightning strike or a storm. Due to its age, the heavy branches are supported by an iron frame. Through consistent care and 'bonsai-like' pruning, the tree has always retained its characteristic crown shape.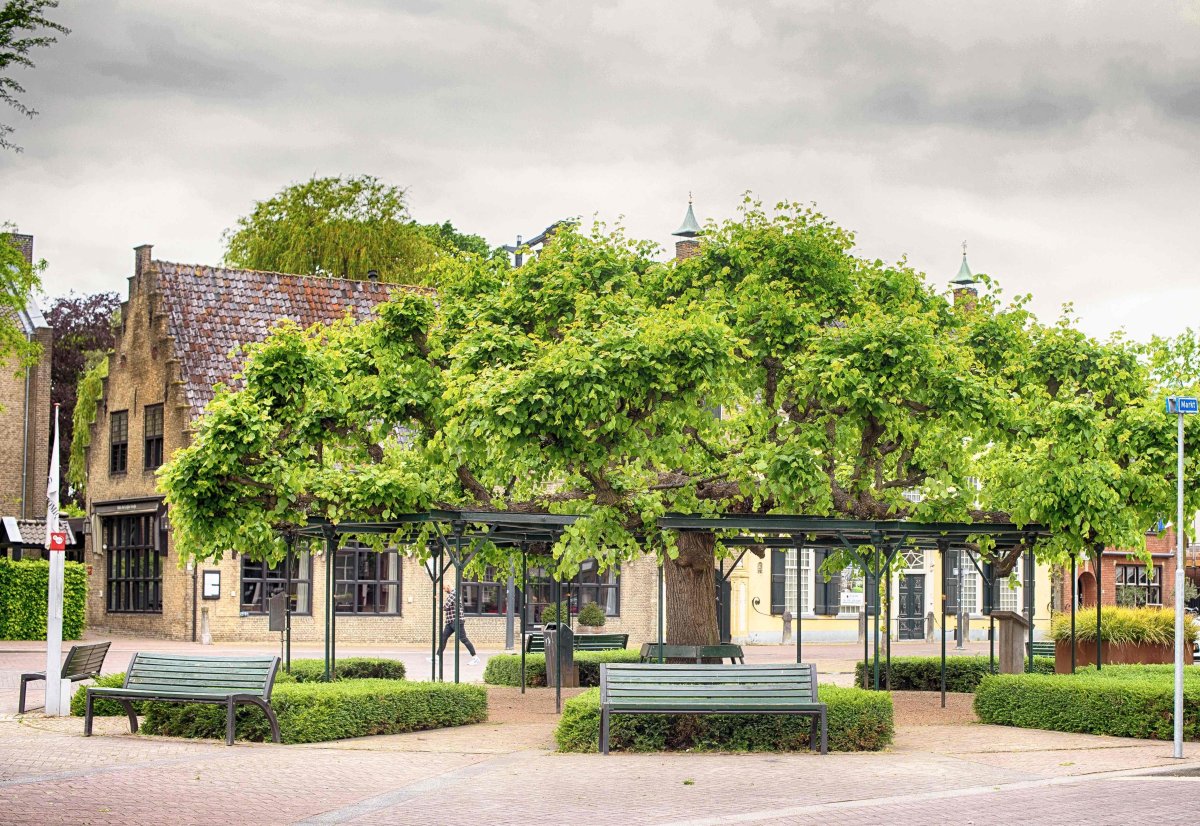 In Etten-Leur there are approximately 1,350 lindens of various types. Their heart-shaped leaves symbolize love, their blossom for fertility and tranquility. The oldest lime is on the Markt, the Mother Tree. The tree was planted over 345 years ago. This happened at the place where justice was administered in the Middle Ages. A place where criminals were convicted and the innocent acquitted.
Symbol of connection
The Mother Tree has been a symbol of connection for all these years. Deeply rooted in the heart of Etten-Leur. The characteristic tree is a place for meeting, fraternizing and entertainment on sunny days and, because of its more than 8,000 lights, a beacon of light in the winter months.




1001 stories
The tree cherishes 1001 events, stories and emotions. New loves have blossomed beneath its long gnarled branches. Everyone remembers that first kiss under the tree. The Mother Tree saw Vincent van Gogh strolling here and Van Gogh saw the tree here ...


Election
The Mother Tree was voted The Tree of the Year 2020 in October last year during the national election. This with an overwhelming majority of 3,593 votes. The two-stemmed wingnut in Middelburg (province of Zeeland) ended at number 2 with 2,450 votes. The red beech in Domies Toen in Pieterburen (province of Groningen) ended in 3rd place with 2083 votes. This election is organized annually by SBNL Natuurfonds in Leersum.
Importance and beauty
This election aims to make people aware of the importance and beauty of trees. The Mother Tree defines the area where it stands and forms a beautiful ensemble with the buildings around it. Moreover, she is a true multitasker. The tree fulfills a function in the production of oxygen, the storage of CO2 and water. It is also a bastion of biodiversity, as it can harbor up to 30,000 bugs and micro-organisms. And what this tree is also very strong at is that it promotes social cohesion. All this made the Mother Tree an ideal candidate for the European Tree of the Year election. The Dutch tree ended in sixth place with 34.244 votes!
(Photography: Ria Mol, Mark Kohn, Egon Zitter, Ed Michels and Pierre van Damme; postcards Regional Archives West-Brabant)